Linux Auto Clicker: Introduction
Linux Auto Clicker is a program that clicks the mouse automatically at a specified time interval. It can be used to click automatically on a variety of things and tasks, such as idle or incremental games. For example, auto-refreshing a browser on a computer desktop can be done automatically.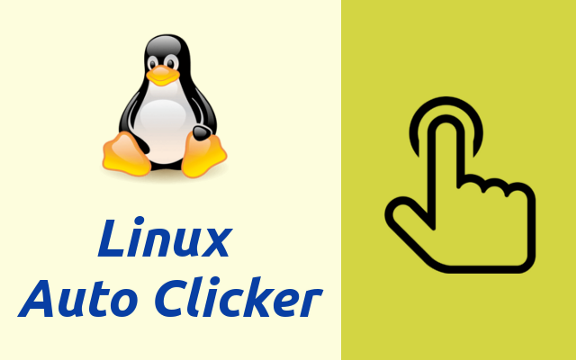 Automating mouse clicks using Max Auto Clicker in Linux
Automating mouse clicking task is required and a key for winning in many idle browser games. Max Auto Clicker is powerful mouse automation software that do this job and save you time in Linux Desktops.
Max Auto Clicker allows users to emulate and automate mouse clicking without having knowledge of programming or scripting languages. Therefore, make it one of the best Linux Auto Clicker software in the market.
This Auto Clicker for Linux will help you of repeated clicks in your games and is completely free and Open Source.
Max Auto Clicker program comes with two modes of auto clicking, Fast and Slow mode, and support three types of delays : Pre-delay, Random delay and Human click delay. The choice to set mouse button : left, right or middle. The ability to set click type : single or double click and the option to set the speed for auto clicker.
This program has a Graphical User Interface (GUI) that make it User-Friendly and easy-to-use and to configure, the auto clicker program can achieve 570+ CPS (or Clicks per Second).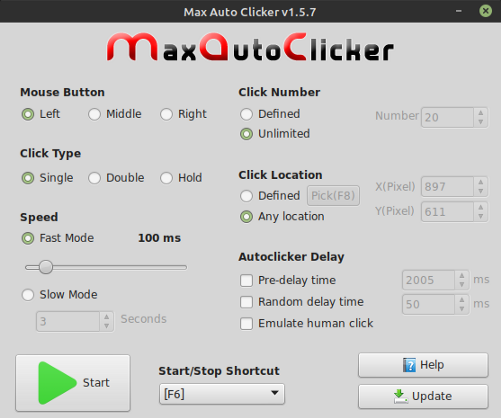 Tested and 100 % working on Ubuntu, Kubuntu, Mint Linux, Debian, Fedora, Redhat, Manjaro, Arch Linux, AntiX, MX Linux, Chrome OS, ChromeBook, Zorin OS, Windowsfx
Max Auto Clicker can be installed via (.deb) package on Ubuntu, Kubuntu and any other Ubuntu-based or Debian-based Linux distributions.
You can Download this Linux Auto Clicker from its Official Site :

You can also test your clicking score by downloading the awesome tool Kohi Click Test (100% Free).
Read more:
How to auto scroll on Windows and Linux without mouse